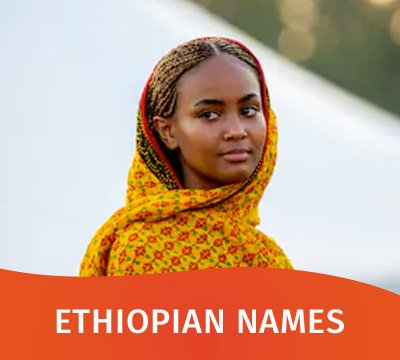 Ethiopian names are as diverse as the country's cultures and religions. There are over 80 ethnic groups each having unique traditional names. Most names in Ethiopia originate from the Amharic language, which is the official language of Ethiopia.
In Amhara and Tigray regions, Ethiopian bible names are common while names in the western parts of the country are traditional. Most names in Oromia and Somali regions are Islamic.
Tigrigna and Amharic names are similar and usually have double barrelled surnames such as Gebre Egziabher and Haile Selassie.
In Addis Ababa, the capital city of Ethiopia and other cities, Amharic and Ethiopian Orthodox bible names are common.
Here are some of the most common Ethiopian names and their meanings.
Ethiopian Girl Names
Abebech Blossomed
Abrihet She's shined
Abeba Flower
Addis New
Alem World
Almaz Diamond
Baredu Beautiful
Bezawit Role model
Bilen Iris
Birtukan Orange
Desta Happiness
Emebet Lady
Feker Love
Gelila Rolling hills
Genet Heaven
Haben Pride
Hiwet Life
Kiya Mine
Lemlem Fertile
Meseret Base
Meskerem January
Nardos Gift of God
Samrawit She Unites
Selamawit Peaceful
Tigist Patience
Ethiopian Boy Names
Abebe Blossomed
Abera Lightned
Abiy The Main
Aberham Biblical*
Adamu Adam
Addisu Newer
Afework Golden Mouth
Alazar Biblical*
Alemu His World
Amare Beautified
Berhanu The Light
Biruk Blessed
Dawit David
Fitsum Absolute
Haile My Power
Habte My Wealth
Hagos Happiness
Iskinder Biblical*
Jemal Islamic*
Kemal Islamic*
Mesfin Throne
Mengistu His Kingdom
Moges Grace
Negus King
Tesfaye My Hope
* Names from either the Bible or Quran